What Annoyed You the Most?
---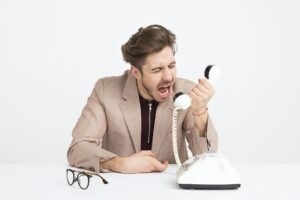 A lot of us have been here, being transferred from an insurance company to a company who supposedly has the product that you are searching for.  A product most likely recommended or even prescribed by your physician and now you are trying to find out if it can be provided to you through your insurance carrier.

Sometimes that process goes smoothly, and you are quickly provided with the product you needed and all covered by your insurance carrier. 

However, many times the conversation goes closer to: "I'm sorry, we do not carry that product" or "I'm not sure why you were transferred to this number, we don't do that".   Then the calling around begins.  It does not take long to get fed up with voice recordings and memorizing an interactive voice response menu.

Why does this happen?  Many times, your insurance provider does not have an accurate or up-to-date list of current Durable Medical Equipment providers, or what these providers are accredited to provide. 

Every Durable Medical Equipment provider (who accepts insurance) is required by law to be accredited in each product category they dispense equipment in.  For example, to provide oxygen supplies, a provider must be certified and accredited to dispense in that product category.  The same goes with Power Wheelchairs, TENS Units, Sleep Aid Supplies, Hospital Beds, on and so forth.

Sometimes your insurance carrier's representative that you are speaking to does not fully understand the product you are looking for, if it is covered through your insurance, or what qualifications a DME Supplier is required to have to be allowed to provide the product or equipment.  This can lead to the eventual confusion and seemingly endless transferred calls. 

DME for Me is working diligently on providing a completely transparent and patient-centric portal for all your Durable Medical Equipment needs.  Allowing you to see your insurance eligibility, how that applies to the product you need, while then having that product quickly and safely delivered to your home.  DME for Me operates in every way under the principles we were founded under: Empathy, Education, Empowerment.

Please continue to check back for updates and share in the comments YOUR most annoying and/or frustration experience with getting your Durable Medical Equipment needs met!
Go Back